The Delegation Of College Of Electrical Engineering And Automation Visited The Alumni Company-Grotech
2022-06-28
【SCHOOL & ENTERPRISE VISIT】THE DELEGATION OF COLLEGE OF ELECTRICAL ENGINEERING AND AUTOMATION VISITED THE ALUMNI COMPANY-GROTECH
On the afternoon of June 9, Mr.Bi Tao, Secretary of the Party Committee of the School of Electrical Engineering and Automation, Mr.Zhang Dexiang, President and Deputy Dean of the School Alumni Branch, Mr.Zhu Mingxing, Vice President of the School Alumni Branch, Mr.Zhang Daoxin, Director of the School Automation Department, Mr.Yang Guozhi, Secretary General of the School Alumni Branch, and his party went to Hefei Growking Optoelectronic Technology Co., Ltd. for an investigation tour, and had a cordial discussion with Mr.Ji Mingwei, the general manager of the company and a 1999-level automation alumnus of the college.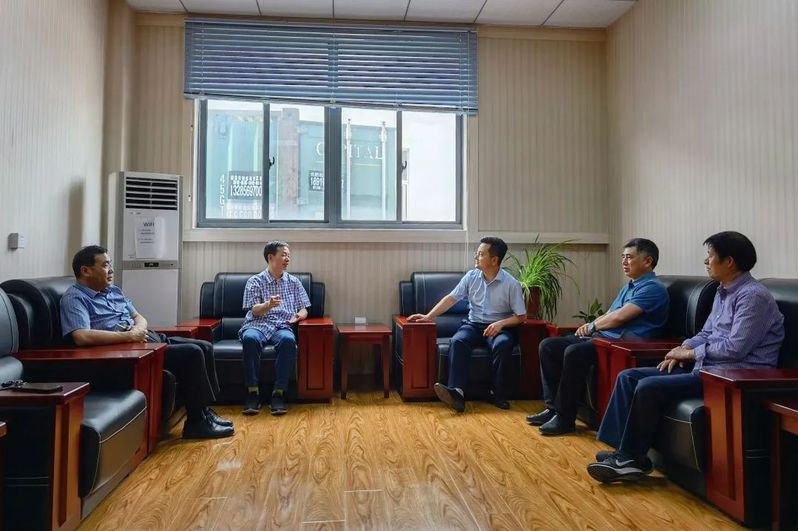 Mr. Ji Mingwei extended a warm welcome to the visit of the delegation and led everyone to visit the company's production workshop, and introduced the company's main products and application fields, company performance and future development plans in detail. He said that the choice of this field is mainly based on what he has learned during his college years. The company's products have independent intellectual property rights and core technologies, which also benefit from the solid foundation laid by the four-year university in the automation major. He is very grateful for the training of his old school and the care of the teachers.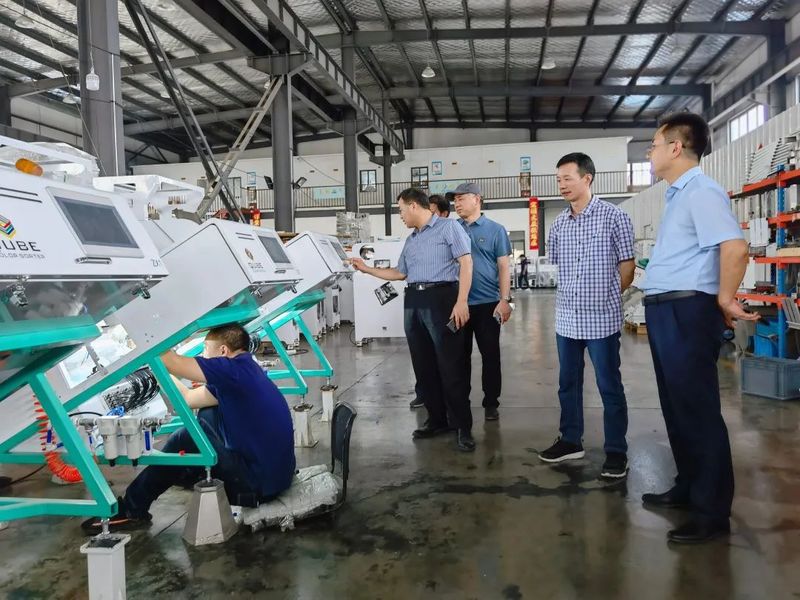 Mr.Zhang Dexiang expressed his gratitude to Hefei Growking Optoelectronic Technology Co., Ltd. for its strong support for the practice and employment of college students in recent years, and congratulated the company on being selected as an off-campus practice education base for college students.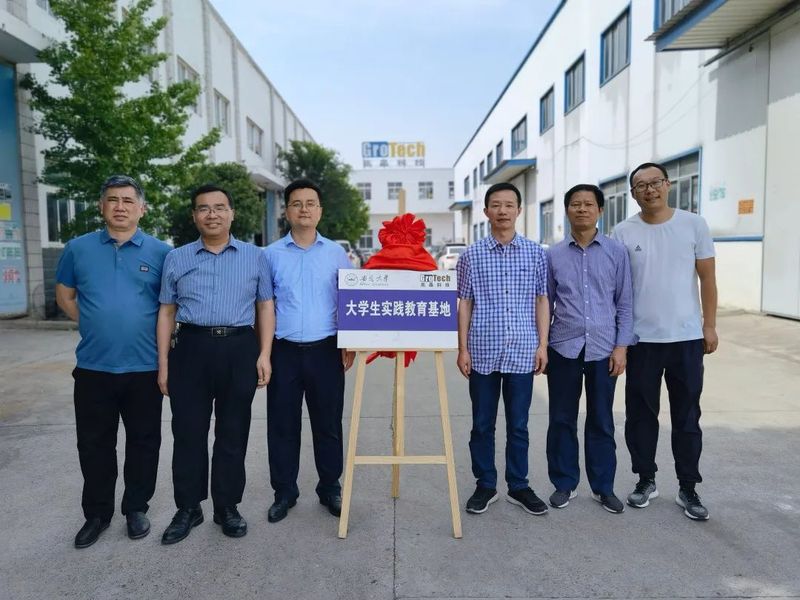 Mr.Bi Tao praised the achievements of Hefei Growking Optoelectronics Technology Co., Ltd. founded by Mr. Ji Mingwei in the design, research and development, production and export of color sorters, and hoped that the company and the college would strengthen cooperation in professional practice and scientific and technological research and development In-depth integration of production, education and research. At the same time, Mr.Bi Tao also expressed his gratitude to Hefei Growking Optoelectronic Technology Co., Ltd. for supporting and sponsoring related activities of the alumni liaison meeting of the college.
Finally, Mr.Bi Tao and Mr.Ji Mingwei jointly unveiled the off-campus practice education base for college students.
Alumni Company-GroTech's profile:
Hefei Growking Optoelectronic Technology Co., Ltd. (international brand: GROTECH COLOR SORTER), established in 2014, is a high-tech enterprise engaged in the research and development, production and sales of optical sorting equipment. The company has always been down-to-earth and steadily promoted the research and development of new technologies. Since its establishment, the cumulative investment in research and development has exceeded 30 million yuan, and it has established long-term industry-university-research cooperation relationships with many well-known domestic universities. The core R&D team consists of 1 professor, 2 associate professors, 10 doctoral students and more than 10 master students. Signed more than 20 industry-university-research cooperation projects, obtained 3 authorized invention patents, accepted 10 invention patents, and authorized more than 40 utility model and appearance patents. In 2017, it was approved as a national high-tech enterprise. In 2021, been on the List of industrial enterprises above designated size in the development zone. The company continues to expand the application field of color sorting of emerging materials with the domestic deep cultivation and international integration business model. In addition to conventional color sorting technology, infrared multispectral cameras and sorting technology have been developed, as well as artificial intelligence sorting technology based on deep learning, and we are taking the lead in developing high-speed cameras, hyperspectral cameras and their sorting technologies.
After years of technological breakthroughs, the company has successively developed agricultural product sorting equipment for various purposes in the food safety industry, crushing and granular industrial plastic color and material sorting equipment in the environmental protection industry, and ore industrial sorting equipment in the mining resources industry. Products are distributed in more than 80 countries and regions in Asia, America, Europe, Africa, etc.